Travellers' accounts as source-materials for Irish historians
Published in
Book Reviews
,
Issue 3 (May/June 2010)
,
Reviews
,
Volume 18
Travellers' accounts as source-materials for Irish historians
Maynooth Research Guides for Irish Local History
C. J. Woods
(Four Courts Press, €24.95)
ISBN 9781846821325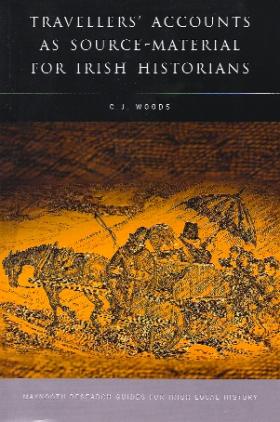 Here's Ireland! Be it rambles in Teague Land or Shamrock Land, Lights and shades of Famine-stricken Ireland, Paddy's dreams or John Bull's nightmare, on a summer's jaunt or through winter wet, Glimpses and/or Gleanings on foot or horse, donkey or Bianconi, six-oared boat or rubber-tyred jaunting car, With a rucksack or not, be one Egyptian or (mostly) Sassenach, conducting A Philosophical survey . . . in a series of letters or simply Boswell in search of a wife, the experience that is Ireland has always triggered in travellers an impulse to write and record. No eighteenth-century scholar (of any discipline) needs convincing that travel narratives are a rich and valuable source of material. Though people had wandered the globe since the dawn of time, the explorers, conquerors, merchants and missionaries of the early modern period lived in an age of both increased mobility and literacy. The act of 'writing one's journey' became commonplace, and by the 1750s reading and emulating printed narratives was a firmly entrenched intellectual pursuit that heralded the golden age of travel writing, waning in the 1850s with the advent of rail.
Accounts of journeys, even if not infallible sources, can especially serve the historian as material on a wide range of issues, if only as a record of conditions or places long since altered. The irrefutable proof lies in the immense value of narratives on Ireland in the pre-Famine period, when even the most privileged entered cabins and recorded conditions. That their observations signalled the vulnerability to starvation of the rural poor is widely acknowledged by specialist scholars. Yet historians in Ireland have generally been slow to follow their counterparts on the Continent, where vibrant teaching and research are conducted on travel and travellers in parallel to that carried out by linguists or civilisation studies departments. With some noted exceptions, the cause has been mainly championed here by the indefatigable Christopher J. Woods, who has passionately and painstakingly identified no less than six or seven hundred accounts or tours of Ireland by natives or foreigners, and pioneered their use as teaching materials with his local history students at Maynooth.
His Travellers' accounts is a repertory listing a representative sampling of 209 of these, dating from 1635 to 1948. Of the travellers, only thirteen are women and no more than 30 are Irish; of the 28 narratives not in English, all but seven are in French. Around 40 of the 200 were Catholic (including the Dutch Jansenists ordained here) and at least two were Mohammedans, and one Viennese observer of national identity deemed in 1913 that the Irish were 'the Jews of the West'. Some accounts are in fact 'hidden' or embedded in books of a different nature, as their respective titles suggest. Modestly billed as an 'aid', this book is in fact an innovative database, with each journey minutely annotated according to a purposeful methodology. As there is no space to 'distinguish the novel from the banal', Woods's typology succinctly helps the historian to evaluate the account as a source. Thus we are provided with far more than a standard bibliography, learning the dates, itinerary and mode of conveyance, followed by the content of the account (and if illustrated), and where persons of note were encountered or seen. An index of travellers and places is also provided, allowing for ample cross-referencing.
Woods cautions readers, as travellers could be 'as blinkered' as horses or 'blind to things historians badly want to know about', but highlights how their accounts are rarely, if ever, useless. Outsiders in particular observed and perceived what to the native was commonplace, as did Abu Taleb Khan, who landed in Cork straight from India in 1799. Comparisons were standard, and one will not disturb the reminiscences of those enthusiasts who deemed Kinsale 'the best harbour' ever seen save Constantinople, and the Mournes both 'the Alps' and 'the Pyrenees of Ireland'. Where one judged today's O'Connell street 'a most magnificent article', another noted there 'more courtesans than in London', many good-looking. The comfort of inns was well lacking in one 'drunken, stinking kennel', and yes, 'twas a Yank who noted the 'lack of sanitarian requisites' in rural homes of the 1930s. Distractions ranged from viewing (in 1698) the battlefield at Aughrim, where 'the bones of the dead lye yet to be seen', to pausing while a blind fiddler played The night before Larry was stretched, observing eagles doing 'great mischief', even seizing leaping salmon, or conversing with a 'unionist' petroleum salesman.
This is an inspirational research guide, which must challenge scholars here and abroad to dig further, encourage theses and launch a wide range of projects, as there is literally something for everyone in the audience. While translators and interculturalists can render into English the foreign-language material, biographers can locate their pet subjects. Historians of religion will not be left wanting, nor those of institutions visited (prisons, police stations, hospitals, workhouses, colleges, schools, libraries, societies), not to mention archaeologists, botanists, zoologists and military historians, and those seeking insights on specific political phenomena, from anti-tithe agitation to unbridled bigotry. Art historians can busy themselves collating the visual material listed, if only to broaden the resources that publishers have to illustrate future books on Ireland.
In trying times, this book (available in paperback) is excellent value for money, and its erudite introduction should convince the non-initiated of the value of travel accounts, gently dispelling the myth that travel literature was mainly the work of ladies of leisure. Presented as an 'elaborate index', it makes for compelling and reassuring reading. Despite recurrent 'scenes of poverty and wretchedness' and beggars 'swarming like mosquitoes', only one of the 209 was waylaid by robbers, and even before we became a multicultural and egalitarian society men saluted 'one another with kisses' (well, at least in 1775). Though travellers noted numerous inebriated vagrants and 'spectacles of intoxication', others were impressed with genuine displays of temperance and abstinence from blasphemy, and last, but never least, the 'smartness of repartee and genuine humour' of the Irish. Historians, now is the time to go Tramping through Ireland!  HI
Sylvie Kleinman is a research associate in the Department of Modern History, Trinity College, Dublin.