'Murderous renegade' or agent of the Crown? The riddle of Erskine Childers
Published in
20th-century / Contemporary History
,
Features
,
Issue 3 (May/June 2014)
,
Revolutionary Period 1912-23
,
Volume 22
Robert Erskine Childers wrote these words in the darkness of his damp prison cell less than an hour before his execution for unlawfully possessing a firearm (ironically given to him by Michael Collins) during the Civil War. It was then, and has since, been speculated that he had been an agent of the Crown and that he earned his 'in' through his role in the organisation and execution of the gunrunning from Hamburg to the Ruytingen lightship in the English Channel and ultimately to Howth in the summer of 1914.
Childers as agent of the Crown: the case for
• On the early death of both his parents Childers grew up among the unionist Barton family of Glendalough. They had earlier fallen out with their 'traitorous' neighbours, the Parnells.
• Following boarding school (when his uncle Hugh was chancellor of the exchequer) and Cambridge, he became a clerk in the House of Commons. He volunteered and served with distinction in the Boer War.
• In The riddle of the sands he successfully shone a light on German militarism as a threat to Britain. The novel centres on a super-spy who infiltrates and brings an enemy to a hard-line position to provide his masters with a casus belli.
• He wrote two further books on military strategy. War and the arme blanche (the military term for the sabre used by the cavalry) appeared in 1908, with an introduction by Lord Roberts of Boer War fame, who wrote 'With every word of this I agree'. In the conclusion Childers noted: 'I have written strongly because I feel strongly about a point which every Englishman, soldier or civilian, has a right to feel strongly'. He followed up in 1910 with German influence on British cavalry.
• At the time of the gunrunning Childers had many friends in the Liberal Party, which had been in government since 1905. His friend Ollivant wrote of Childers: 'In 1919 he moved finally from his little flat in Embankment Gardens, Chelsea, where in the days before that war you met . . . most of the advanced Liberal world of London'. Among his closest friends was Eddie Marsh, who had been Winston Churchill's private secretary since 1905 and was godfather to his daughter Sarah. Molly Childers noted that for the first ten years of her married life with Erskine their social contacts included 'more or less regular dinner engagements in the flat of Edward Marsh'.
• On the Asgard with Childers was his good friend Gordon Shephard, an officer in the British Army who would—prior to his death in 1917—become an aviator and the youngest brigadier-general in the army. In 1912 Shephard was arrested in Germany and briefly imprisoned for taking photographs of the harbour at Emden. Prior to that he had been actively supplying the British admiralty with intelligence. In July 1914 (en route to drop the guns) he came ashore at Milford Haven but made his way to Dublin for the landing. Later that day he lunched in the United Arts Club on Harcourt Street with Mary Spring Rice, who had also been on the Asgard, and there suggested that they should organise a second gunrunning expedition, this time into Limerick, for September 1914.
• The Asgard had sailed through what Winston Churchill would later claim 'constituted incomparably the greatest assemblage of naval power ever witnessed in the history of the world'.
• Having landed the arms in plain view of the coastguard—the aud-acious plan of Bulmer Hobson, designed to generate maximum publicity—Childers and his wife sailed the Asgard back to Holyhead without interference. They would soon be in the House of Commons to hear Grey's famous speech on British entry into the Great War.
• On the outbreak of war Childers was immediately drafted into naval intelligence and would serve with distinction. (The admiralty even contacted the HQ of the Irish Volunteers in Dublin with a message for Childers to report to London!)
• In 1917 Childers served as a secretary to the doomed Irish Convention that sought to mend fences on Home Rule. There he became particularly friendly with Edward MacLysaght, the sole Sinn Féin delegate.
• Shortly before his arrest and execution Childers was referred to by Churchill as a 'murderous renegade', but in later life Churchill wrote to Molly that Erskine had been a 'great patriot and statesman'.
• The American journalist Hayden Talbot met with Michael Collins on a number of occasions; in his book Michael Collins' own story he claims that Collins said of the gunrunning:
'At that time Carson's armed forces in Ulster were drilling and preparing to wage war on us—at least, that is what many Irishmen honestly believed. What could suit England's wishes better than such a war? How could it be precipitated more surely than by furnishing arms in discreetly inadequate quantities to the side which, unarmed, had no choice except passive acceptance of the Ulster menace. Fortunately for once we avoided making the error of doing what Ireland's enemy fully expected.'
The case against

We cannot verify this quote but even if Collins did hold this view his analysis was very likely mistaken. It assumes an alliance between the British government and the UVF, who were in fact at loggerheads. Then—and since—unprecedented, the prime minister was not on speaking terms with the leader of the opposition. Is it likely that Britain would have wanted to foment conflict in Ireland just as its under-resourced military was on the brink of entering a European war? The reality was that in the weeks following the outbreak of the First World War the Volunteers were actively seeking funding and arms from the War Office in London to defend Ireland and allow British soldiers based in Ireland to fight in France. A great majority would soon follow Redmond's call to France.
Although perhaps initially interesting (if not superficially convincing), the list above is highly selective and trap-laden without an appreciation of both Childers the man and how the First World War and the 1916 Rising so dramatically changed everything.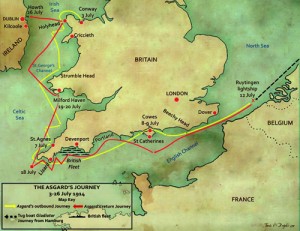 Erskine Childers was a singular personality, likely deeply affected throughout his life by the early death of his parents. Like his father, who compiled the first Pali–English dictionary, he did nothing by halves. The arc of his journey from imperialist to republican is clearly visible, from his letters to the London Times in 1901 on cruelty in the Boer War to his trips around Ireland in 1908, when he was deeply impressed by Sir Horace Plunkett's cooperative movement, through to his championing of Home Rule in The framework for Home Rule (1911). He resigned from the civil service to find a Liberal seat in parliament but was exasperated when his impassioned espousal of Home Rule fell on disinterested ears in the pastoral hamlets of middle England. He resigned his membership of the Liberal Party on the morning in March 1914 when he read of the first exclusion concession to unionism.
In the summer of 1914 there was no incompatibility between serving in British naval intelligence and advocating all-Ireland Home Rule. It seems odd now that the admiralty might contact Volunteer HQ looking for him, though not so much if you consider that (excluding the hidden IRB element) the Volunteers were ostensibly led by moderates who saw themselves aligned with the government that had introduced Home Rule in the first place. It is notable that in addition to seeking out Shephard he contacted another British army officer called Pippon, who preferred not to get involved. Pippon later confirmed that Childers told him that the arms would be used only as a gesture of equality.
Shephard had long been a very close sailing friend, a radical in politics and possibly a secret Roman Catholic. His memoirs reveal a daredevil spirit not uncommon in early aviators (indeed, shared by Childers); this might explain his espionage activities, which would appear to have been unsolicited and actively unwelcome following his arrest at Emden.
Childers was an established yachtsman and so there would have been little reason to suspect that his voyage to Howth was anything other than a pleasure cruise. Indeed, it was his extensive knowledge of the seas around Britain—or more likely north of Germany—that made him so attractive to naval intelligence. It was odd that he managed to sail on to Holyhead, though the gunboat normally guarding Dublin Bay was absent (courtesy of a Bulmer Hobson ruse) and it may be that those who might have coordinated a search were preoccupied by the imminent outbreak of war.
Though he had kept quiet beforehand, news of Childers's involvement at Howth soon spread among a larger circle than the original organising committee. His friend the historian G.M. Trevelyn wrote to him: 'so you worked better than you knew when you smuggled those rifles. Without that Redmond would be on no equality with Carson at this crisis, and his offers to England of help would have been impossible for him to make at least so effectively. You have not lived in vain.'
His wife noted that Childers was congratulated by government ministers in the aftermath of the gunrunning, though they knew nothing about it beforehand. It is not easy to assess motivations among the key figures in that government, particularly Churchill and Lloyd George, whose public utterances on Home Rule tended to wax and wane, but it may not be unlikely that a portion of the cabinet was well disposed towards a moderate arming of the Volunteers. Might they not have regarded it as a symbolic counter-balance to an armed UVF in the context of possible civil war and uncertain army support?
Erskine Childers was Ireland's Lawrence of Arabia—by temperament unable to compromise where he saw a right and a wrong. This is why, having set his mind on Home Rule, he immediately resigned from the Liberal Party on hearing of northern exclusion, and it is why he became so unbending through the Treaty negotiations and consequent civil war. Recalling the immediate aftermath of the agreement reached on the Treaty, Lloyd George wrote: 'When we walked out of the room where we had sat for hours together, worn with toil and anxious labour, but all happy that our great task of reconciliation had been achieved, we met Mr Erskine Childers outside, sullen with disappointment and compressed wrath at what he conceived to be the surrender of the principles he had fought for
. . . I never saw him after that morning'.<.p>
The progression of his (and his wife's) conversion from moderate Home Ruler to republican can be read in the very extensive Childers papers at Trinity College, Dublin. Writing to her sister on 20 December 1922, Molly Childers noted that Erskine jnr (later president of Ireland), who had been brought to his father in the hours before his execution less than a month previously, wrote on his admissions slip to Trinity College, Cambridge, that his father's occupation was 'writer and staff captain, field general of the Irish Republican Army'.
Conor Nelson is a researcher on The Right Hook on Newstalk.
Read More: Context
Further reading
R. Fanning, Fatal path: British government and Irish revolution 1910–22 (London, 2013).
S. Lesley (ed.), Memoirs of Brigadier-General Gordon Shephard, DSO, MC (London, 1924).
F.X. Martin, The Howth gun-running and the Kilcoole gun-running, 1914 (Dublin, 1964).
F. Pakenham, Peace by ordeal (London, 1935).