EARLY MODERN IRELAND: new sources, methods, and perspectives
Published in
Book Reviews
,
Book Reviews
,
Issue 5 (September/October 2019)
,
Volume 27
SARAH COVINGTON, VINCENT CAREY and VALERIE McGOWAN-DOYLE (eds)
Routledge
€40
ISBN 9780815373940
Reviewed by
Simon Egan
Simon Egan is a research fellow at the University of Glasgow.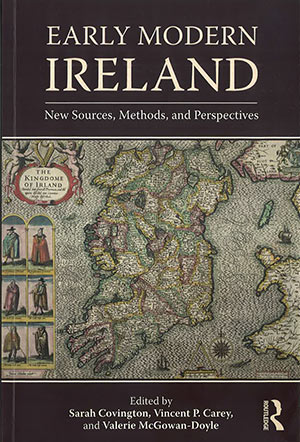 In 1500 the island of Ireland was, to most outside observers, a terra incognita. The land and seascape stretching from Mizen Head northwards through to Rathlin was controlled by powerful aristocratic lineages, and detailed knowledge of the island's geography was limited to the more Anglicised eastern seaboard. Within the space of 200 years, however, the political make-up of Ireland had been completely transformed. The native order had been swept aside and, following a major programme of plantation and land redistribution, the island became one of the most heavily mapped regions in western Europe. The aims of this new collection of essays are twofold: (i) to offer a concise guide to both earlier and recent research on Ireland's transformation c. 1500–c. 1700 and (ii) to direct the reader towards new and potentially fruitful avenues of investigation.
The introduction offers a welcome overview, charting the course of early modern Irish historiography during the last half-century. Particular attention is devoted to the contentious debates surrounding the Tudor 'reform' of Ireland, the escalation of violence in early modern Ireland and recent advances in social and cultural history. Clearly written and replete with detailed footnotes, this essay alone serves as an excellent historiographical introduction to what is becoming a rapidly widening field.
In the first of many insightful essays, Clodagh Tait examines the value of wills as a historical source and demonstrates that these rich documents can be used to trace kinship links, patterns of consumption and materiality, and the history of emotions. Developing on the theme of historical emotive responses, Marie-Louise Coolahan argues for a more rounded, interdisciplinary approach to early modern literature in order to grasp more firmly how social upheaval and trauma shaped the corpus of life-writings produced in early modern Ireland.
The next cluster of essays focuses primarily on Irish-language material. Bronagh McShane demonstrates that, in addition to looking at English material, an examination of Irish sources (such as bardic poetry) can provide a new window into the lives of clerical wives in Ireland. Brendan Kane cautions against an overreliance on antiquarian editions of Irish texts and emphasises the necessity of learning classical Irish (c. 1200–c. 1650) if one is to fully engage with the considerable body of surviving Irish source material. Furthermore, Kane directs the reader to an invaluable digital resource: https://leamh.org. Sarah McKibben showcases how a close reading of bardic poetry can unearth new gleanings on the wider social, cultural and political contexts surrounding their composition. Building on this idea, Peter McQuillan presents a case for re-examining Irish ideas of nationhood and self-identity by scrutinising increasingly common terms (i.e. pobal and náision) in the works of Irish writers such as Geoffrey Keating.
Locating Ireland within an Atlantic framework has become increasingly popular in recent decades. Using the Hedges family of Munster as a case-study, Marc Caball extends this approach to explore Irish involvement in nascent British enterprises in India during the late seventeenth and early eighteenth centuries. Returning to the sixteenth century, David Edwards reveals how an examination of complaints (against senior Elizabethan officials in Ireland) holds the potential for a major reassessment of the (mal)practice of English government in Ireland. Focusing on petitions, Ruth Canning presents a compelling case for using these important yet under-examined sources to recreate the Pale community's changing relationship with the Crown in the 1590s. In a sweeping overview of the historiography underpinning Irish parliamentary history, Coleman Dennehy makes clear that, in spite of recent advances, the field of Irish legal history would benefit from further detailed research into institutional governance at both the national and the local level. John Cunningham's contribution underlines the as-yet-unexplored potential of Irish medical history, while Sarah Covington draws attention to the centrality of folklore as a source for historians. Willy Maley, in turn, helps to locate developments in seventeenth- and eighteenth-century Ireland within the broadening field of animal studies, and James Lyttleton's essay knits together the various strands of history, cartography and archaeology. Francis Ludlow and Arlene Crampsie's striking contribution explores how studying climate can offer a further, deeper understanding of pivotal events such as the 1641 rebellion. In the final contribution, Micheál Ó Siochrú and David Brown bring to our attention recent advances in digital humanities and emphasise that, although a database will never become a perfect substitute for archival research, accessible digital resources are certainly having a positive impact on Irish scholarship.
Naturally, this volume follows in the wake of the recently published Cambridge History of Ireland, Vol. II: 1550–1730, and ten of this volume's 22 contributors feature in the former. Nevertheless, there is remarkably little overlap between the two. Overall, this is an impressive volume, one that will both act as an important guide to a vast body of recent research and help stimulate further interdisciplinary research into various aspects of early modern Ireland.