BOOKWORM
Published in
Book Reviews
,
Issue 4 (July/August 2019)
,
Reviews
,
Volume 27
By Joe Culley
@TheRealCulls
When Dr Shane Kenna died two years ago he was only 33, yet he had already established himself as one of the leading and most popular historians of his generation. He had published a number of books and articles on nineteenth-century Irish revolutionaries, but he was possibly better known as a speaker, broadcaster and tour guide. I enjoyed his ebullient company at a few events at Glasnevin Cemetery.
Not long after his death, his family discovered a nearly complete manuscript on his laptop which told the story of the 1882 Phoenix Park murders. The family, along with a few of Kenna's friends and the good people at the O'Brien Press, have taken that manuscript and produced The Invincibles: the Phoenix Park assassinations and the conspiracy that shook an empire.
And it's terrific. Kenna has married his deep, exhaustive scholarship of the subject with his natural storytelling skills to produce a hugely authoritative work that should be a magnet to both the popular reader and the specialist. If he were alive, he'd be on every radio and TV programme plugging it with his infectious enthusiasm and it would be jumping off the shelves.
There's a problem, however. I have regularly praised here the consistently excellent production values of the O'Brien Press, so I take no pleasure in saying that it seems to me that they have dropped the ball badly in this case. Yes, it's a typically handsome production, a hardback with an eye-catching cover and strong design inside, but the quality of the text-editing is far below standard.
Some of the mistakes are trivial enough in themselves and would not be worth mentioning ordinarily, but the sheer number and nature of them can't be ignored. And there are too many examples of repetition: the word 'draconian' occurs five times in the first chapter. On page 30 the date of the Coercion Act is given as 1882, not 1881. A small point, perhaps, but then, on the same page, we find: 'Forster was becoming an odium of hatred …'. It occurred to me that perhaps I had an uncorrected proof copy, but there was nothing to indicate that this was the case.
The time-lines—who did what, where and when—are regularly muddled. A man is in London in one sentence and two sentences later is meeting co-conspirators in Dublin. Sure, that could be accurate, but a good editor would smooth the transition. The main street of the capital is variously Sackville Street or O'Connell Street. A long extract from an original source is repeated (almost) verbatim within a couple of pages. A telling phrase, which the author was clearly still working on, appears twice in one paragraph. In the closing pages the name of a ship is incorrect.
I can only speculate that the text of the manuscript found on Kenna's computer was a draft—nearly the final draft, but a draft nonetheless. It had reached the stage at which he would have collaborated with the publisher to fine-tune it, and it simply wasn't checked carefully before going into print.
What can be done? Well, this is a nicely produced hardback. Perhaps the O'Brien Press will issue a handsome, fully edited paperback that will do Dr Kenna's legacy justice.
Donal Hall's Louth: the Irish revolution 1912–23 is the latest in the Four Courts series, overseen by Maynooth University and DCU, examining the period county by county. One remarkable aspect of Louth is the natural north/south divide in virtually all aspects of county life, whether economic, political or cultural. For example, the Parnell/Healy split festered there right up to the 1918 general election. I confess a personal interest here, as my grandfather, J.J. 'Sceilg' O'Kelly, who was from Valentia and living in Glasnevin, won that seat for Sinn Féin, beating Richard Hazelton of the IPP by just 255 votes. Also, 'By the standards of Louth it was a relatively peaceful election …'. Hall writes extremely well and condenses a great deal of material into a slim, easy-to-read, coherent whole.
Among new releases from the Irish Academic Press are Jeffrey Leddin's impressive study, The Labour Hercules: the Irish Citizen Army and Irish republicanism 1913–23, and Okan Ozseker's Forging the border: Donegal and Derry in times of revolution 1911–1925.
Using newly found correspondence and interviews, Trish Ferguson's succinct but detailed Maud Gonne offers a reappraisal of that lady's lifelong contribution to the political and cultural landscape of Ireland. By the early 1890s Gonne was already widely recognised as a political activist and writer, but in the current decade of centenaries she is often ignored entirely or relegated to being John McBride's ex-wife or Yeats's muse. Ferguson hopes to emphasise 'Gonne's political acumen and the importance of the role she played through the international press'.
Former Dublin Lord Mayor Mícheál Mac Donncha has written an engaging history of the central role played by the Mansion House in the revolutionary years. He has special praise for his predecessor of the time, Laurence O'Neill, who ensured that it was a venue 'where freedom of speech and assembly could be exercised by all'. It's in Irish and English—just flip it over to your choice.
Paul Connolly's The landed estates of County Roscommon is his third self-published study of his native county. It seems that Roscommon is awash with once-great houses, and in this coffee-table treatment he examines twelve estates, some well known—Castlecoote, Frenchpark, Castlerea and Strokestown Park—and others that have been lost to the public imagination. The appeal of the book is that the focus is as much on the people of the houses as on the structures themselves.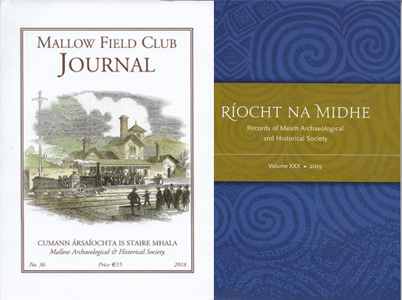 The busy Mallow Field Club Journal includes articles on a pugilistic bout in Bottlehill in 1821 and Jesuit Fr John Sullivan, while Ríocht na Midhe tackles the Stopfords of Blackwater House and the early years of the Laytown races.
Shane Kenna, The Invincibles: the Phoenix Park assassinations and the conspiracy that shook an empire (O'Brien Press, €24.99 hb, 336pp, ISBN 9781788490603).
Donal Hall, Louth: the Irish revolution 1912–23 (Four Courts Press, €19.95, 192pp, ISBN 9781846826603).
Jeffrey Leddin, The Labour Hercules: the Irish Citizen Army and Irish republicanism 1913–23 (Irish Academic Press, €24.95, 304pp, ISBN 9781788550741).
Okan Ozseker, Forging the border: Donegal and Derry in times of revolution 1911–1925 (Irish Academic Press, €19.95 pb, 272pp, ISBN 9781788550703).
Trish Ferguson, Maud Gonne (UCD Press, €17 pb, 90pp, ISBN 9781910820247).
Mícheál Mac Donncha, The Mansion House and the Irish Revolution 1912–1923/Teach an Árdmhéara agus Réabhlóid na hÉireann (Dublin City Council/Four Courts Press, €25 hb, 67pp, ISBN 9780950051208).
Paul Connolly, The landed estates of County Roscommon (Paul Connolly, €30 pb, 270pp, ISBN 9780993097928).
Mallow Field Club Journal (Mallow Archaeological and Historical Society, €15 pb, 175pp).
Peter Connell (Hon. Ed.), Ríocht na Midhe, Vol. XXX (2019) (Meath Archaeological and Historical Society, €25 pb, 390pp).